If you're looking for a simple, delicious bedtime snack idea - these Peanut Butter Coconut Chocolate Bites are for you!
We always crave just a little something sweet before bed time, and I often find myself rummaging through the pantry or fridge to see what will satisfy my cravings. These peanut butter coconut chocolate bites are perfect for prepping ahead of time and keeping in the fridge for when your pre-bedtime snack cravings hit!
These bites are made with only 5 simple ingredients: oatmeal, peanut butter, unsweetened coconut, cinnamon and mini chocolate chips. You probably already have everything you need to make them in your pantry!
They only take 10 minutes to make so they're perfect for making to satisfy your sweet tooth before you catch some ZZZ's.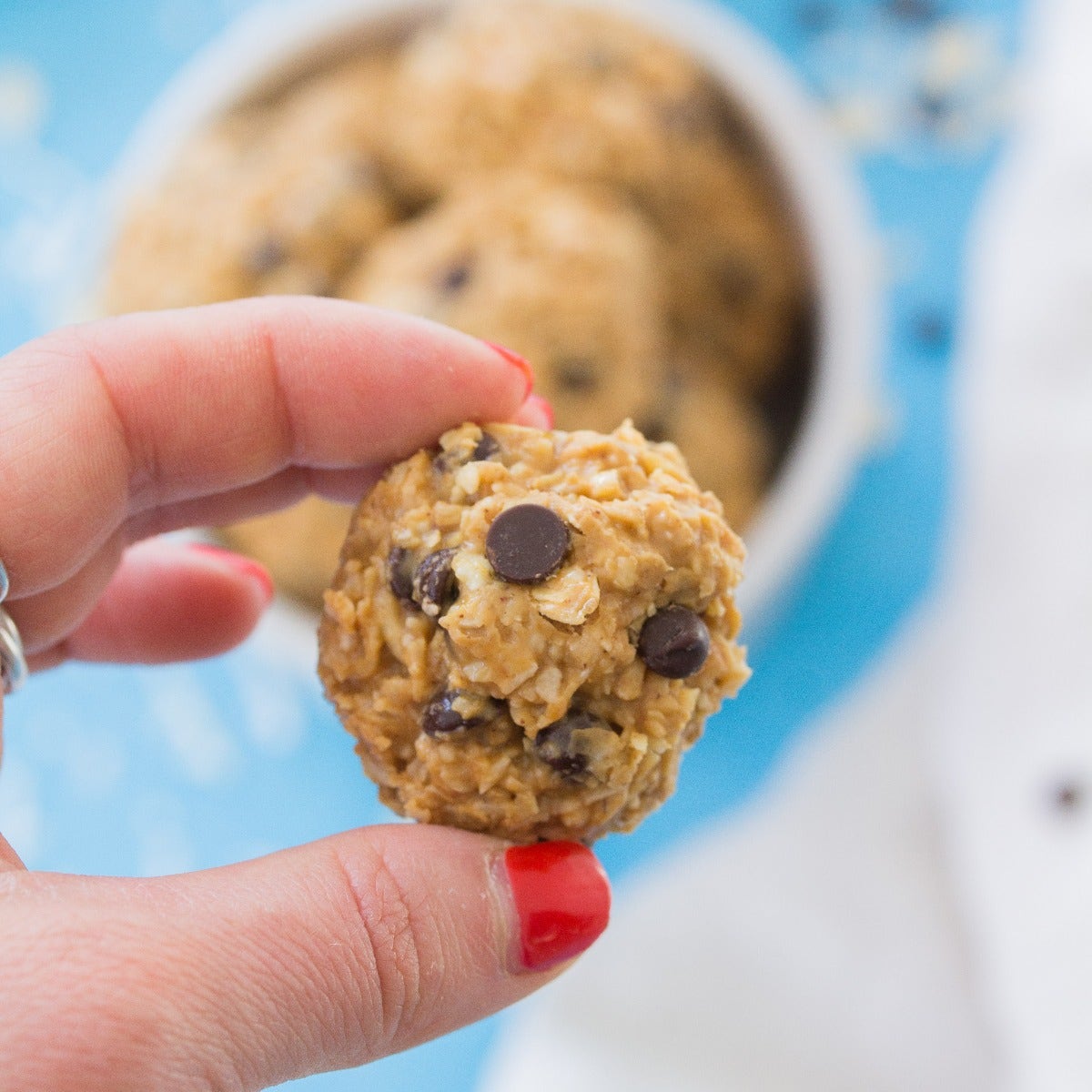 Peanut Butter Coconut Chocolate Bites
Yield: 15 oatmeal energy balls
Total Time: 10 minutes
Ingredients
1 ¼ cup old-fashioned oatmeal
1 cup creamy peanut butter
1 ¼ cup unsweetened coconut shreds
¼ teaspoon ground cinnamon
½ cup mini dark chocolate chips
Directions:
In a food processor, pulse oats until roughly processed and in small pieces
In a bowl, combine oats, peanut butter coconut shreds, cinnamon and chocolate chips. Mix together until dough forms. (It may be easiest to use your hands, but it is a little messy!)
Prepare a plate or small baking sheet lined with parchment paper.
Roll dough into 1 tablespoon size bites. Lay bites on a parchment paper lined sheet and cool in the fridge for one hour so the bites can firm up.
After oatmeal energy balls have firmed up, transfer to an airtight container in the refrigerator. Store for up to one week in the refrigerator.
Substitutions for this recipe:
You can sub peanut butter for sunflower, cashew or almond butter.
You can use chopped chocolate bars or regular chocolate chips in this recipe, it just may be more difficult to roll into balls.
You can sub old-fashioned oatmeal with quick cook oatmeal. You can't use steel cut oatmeal.