We're Celebrating "Get to Know Your Customers Day" by Answering YOUR Questions!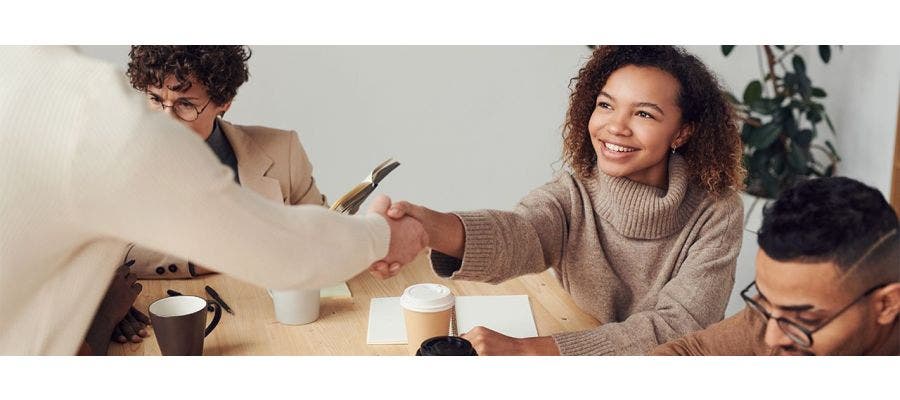 All businesses have one thing in common: their success depends on their amazing customers! Here at Happsy, we consider our customers to be our family. Our goal, aside from providing an affordable good night's sleep on a comfortable organic mattress, is to make sure our customers are truly happy – from shopping to set-up to that sweet, sweet slumber.
We've said it before and we'll say it again: mattresses are a huge investment. So, when our customers have questions, we're always ready to offer as much information as possible so that they feel confident in their decision. Yep – transparency is our thing!
In honor of Get To Know Your Customers Day, we took to our social networks to get in touch with our potential/existing customers. We wanted to know:
What questions do you have about Happsy?

Do you have any feedback on why you chose us?
You can catch some of the top questions (and our answers!) about our products below. But first, we're still blushing from the the feedback we received on why our customers chose us!
"Happsy was the most affordable option for our budget that had all of the same important certifications as the more expensive brands."
"I love supporting small, family-owned brands! I was excited to find one that shares my values for organic, non-toxic products."
"Besides being a more affordable organic option, I was impressed with the reviews – from the quality of the mattress to the customer service."
Q: What certifications does Happsy have that help me understand if your mattress is really a healthier choice?
A: Great question – considering how many greenwashing tactics and false medical claims are out there! At Happsy, we're out to make the healthiest mattress we possibly can, and that involves meeting the high standards of credible third-party certifiers.
The finished Happsy organic mattress is certified the Global Organic Textile Standard (GOTS). We use only GOTS approved materials, including organic cotton and wool and natural latex. Speaking of latex, ours is 100% natural Dunlop latex from rubber tree milk – never any synthetic latex or blends – and it's certified by the Global Organic Latex Standard (GOLS) or FSC®/Rainforest Alliance, two respected certifications accepted by GOTS.
Our pocketed springs are engineered in-house at our GOTS certified factory in Ohio. Each coil is individually encased in a polypropylene mesh fabric pocket. We then heat-seal the pockets without ANY glues or adhesives. And, there are no synthetic foams anywhere in our mattresses.
You can find more information on our certifications here. But, it's good to know that, additionally, our mattresses are:
MADE SAFE® certified

GREENGUARD® Gold certified

UL Formaldehyde Free verified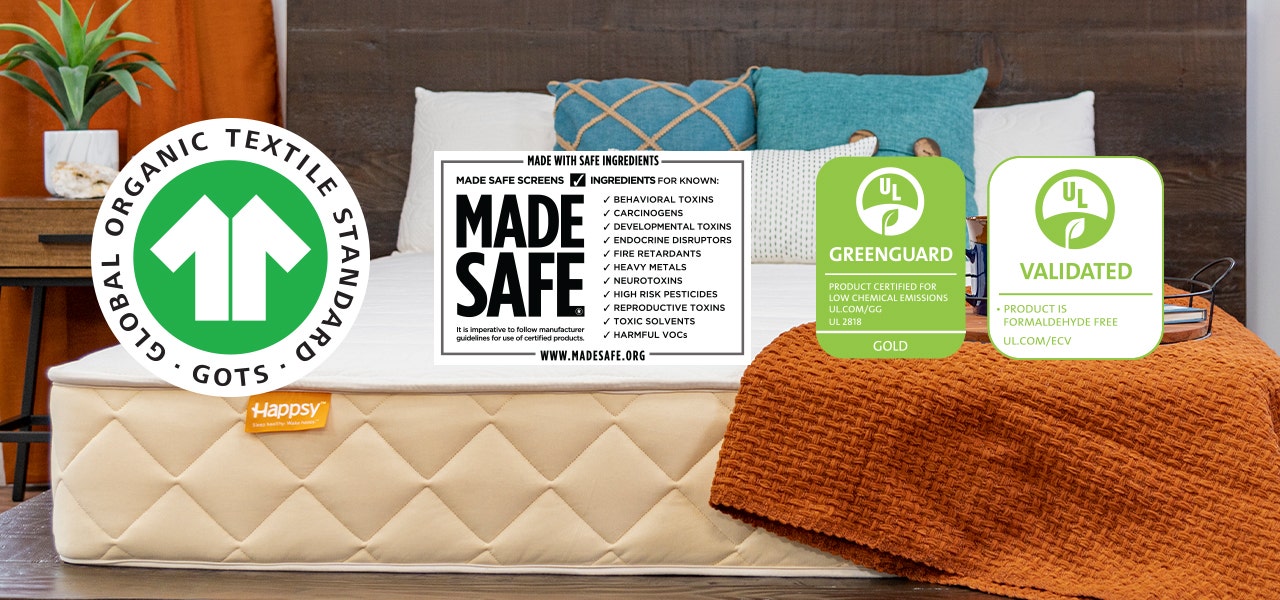 Q: Are your pillows organic as well? What about your sheets?
A: Yes to both! Actually, all of our accessories are GOTS certified organic. The latex in our pillows is also certified to the GOLS or FSC®/Rainforest Alliance standards. But, just a heads up – Happsy organic pillows are not washable and the organic cotton cover is not removable. Spot clean only!
Our super-soft organic sheets are made from 100% organic cotton and contain no added dyes or treatments.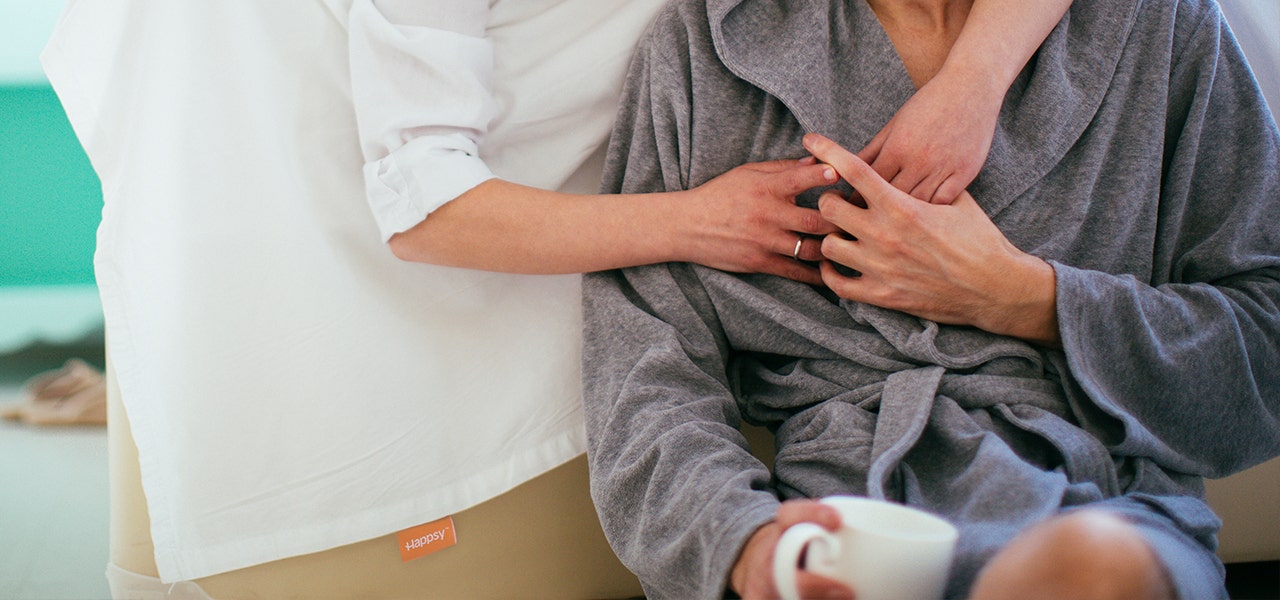 Q: Do I need a specific foundation for Happsy or can I use the one I have?
A: The Happsy foundation is to be used in place of a traditional box spring in a bed that requires the extra piece. If you're using a slatted or solid platform bed, you don't need it!
Some people with traditional beds asked if they can use their existing foundation/box spring. That's tricky, as they are all made differently, but the basic answer is yes … if it provides adequate support. To determine this, examine your foundation, running your hand over the top (they generally have a fabric layer over some type of supports). Some foundations made for box spring mattresses do have supports under the fabric, but they are spaced really far apart. This won't work for individually pocketed coils like in Happsy. Ideally, you want supports to be no more than four inches apart.
Q: I have had my Happsy for awhile and love it. Do I need to rotate it or anything? Also, what if I need to clean it?
A: Nope! Your Happsy does not need to be rotated, but you are welcome to do so if you wish. As far as cleaning goes, the Happsy is spot clean only. Our best suggestion is to look up ways to clean your mattress the natural way and follow those guidelines. Methods like this often use baking soda and other household items like mild dish soap.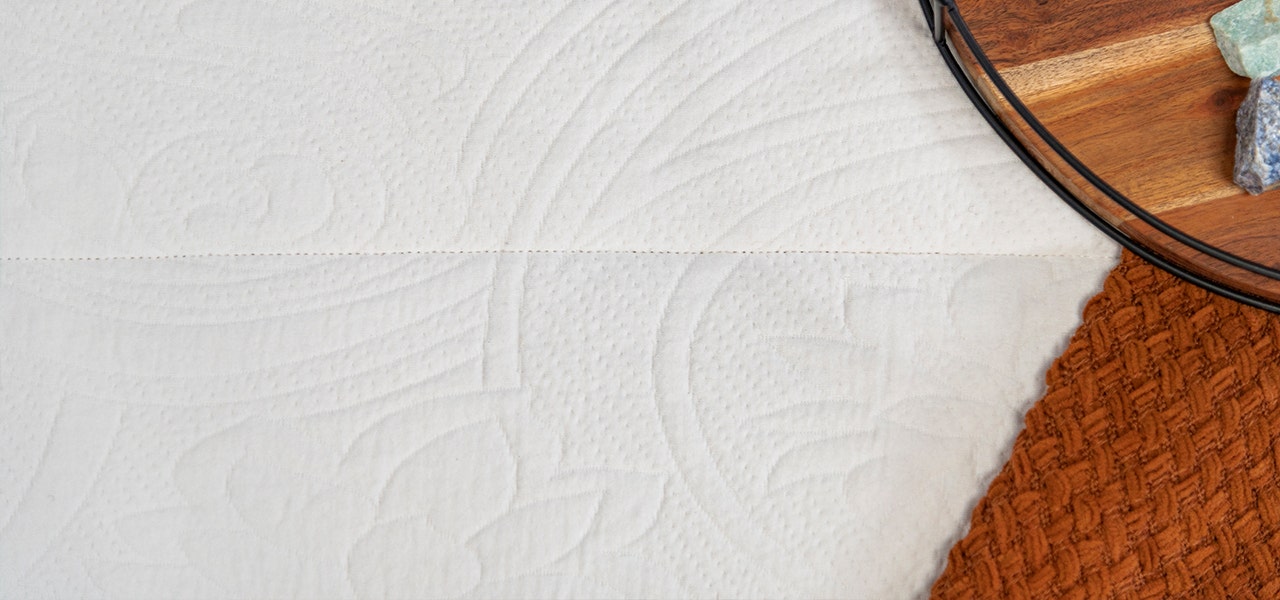 Q: Can I put a second topper on my Happsy mattress if I want it to be softer?
A: Yes, of course! Although this isn't common, some people have done this to fit their specific needs. If you find that your Happsy, even with the organic mattress topper, is still not soft enough, you can purchase a second topper. That topper will have the same 120-night trial as all of our products, so if it isn't a good fit, just return it for a full refund.
Q: What does a 120-night sleep trial and free returns entail?
A: You get 120 nights from the day of delivery to try us out! If we are not a good fit, we offer free returns where we send you a link to schedule a responsible mattress removal with our third-party mattress removal company, Load Up. Once removed, we process your refund. It is super user-friendly and hassle free. Plus, no restocking fees.
Q: Is there a weight limit for a Happsy mattress?
A: There haven't been any limits/guidelines set for customer weights for Happsy. It's worth noting that the coils are made with 15.5 gauge steel coils, which is a fairly standard size. Individuals over 250 pounds could potentially find that diameter of coil to be too thin and may choose to find mattresses made with 14.5 or even heavier gauge coils. (The smaller the number the heavier the coil). Coils will feel softer to a heavier person than someone who is lighter.
Q: If I want to order during a sale but I am not ready for my mattress, are you able to hold it? Our daughter has a Happsy and we are looking to get one too since we love hers so much!
A: We love when our customers trade their existing mattress for a Happsy after trying out someone else's! Yes, you are able to order during sale times or any time for that matter and we will gladly hold the order until you're ready for it to ship. Simply send your order number to orders@happsy.com and ask for it to be held for you.
Q: I'm happy with my Happsy but I lost the paperwork, including the warranty. Is there any way to have this sent to me for my records, just in case?
A: Of course! We absolutely understand wanting to have your warranty on hand. If you send us an email at orders@happsy.com with your request, we'll send over a copy of the warranty/order information.
Q: What does Happsy do to support the planet?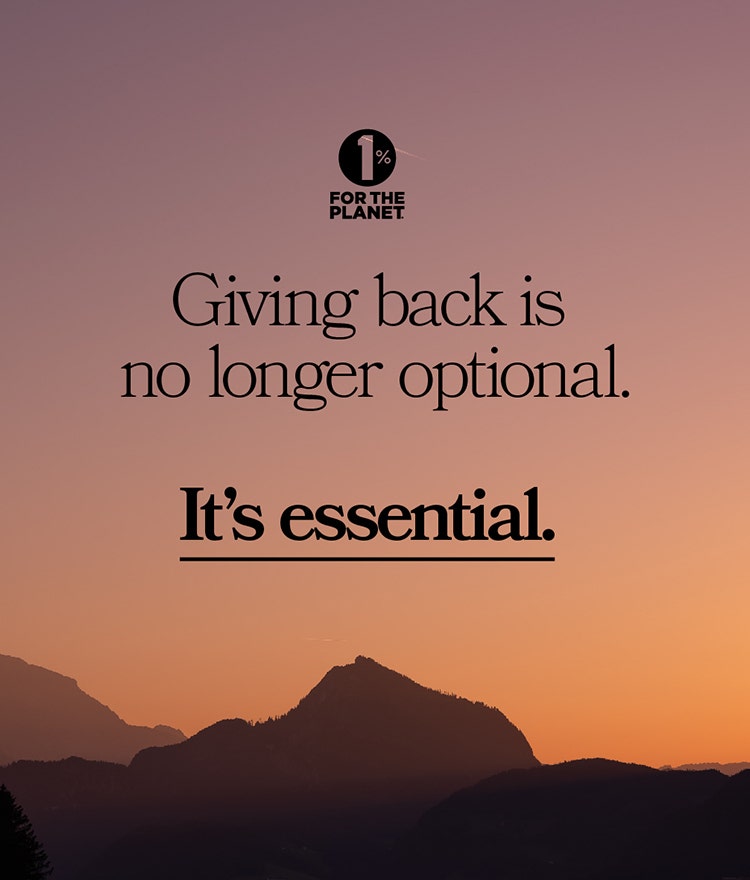 A: We LOVE this question! Outside of being certified organic, which means our materials are not only better for you but also for our planet, we try to do our part in as many ways as we can. Here are a few of our efforts:
We partner with 1% for the Planet

, which means we give back a portion of our proceeds to support environmental causes.
We support other 1% for the Planet organizations like

Humble Design

, an organization that helps people arising out of homelessness.

We partner with Load Up, our third-party mattress removal company, for our returns and existing mattress removals so that these mattresses end up either donated or recycled.

Load Up also plants a tree for every order placed with them which is a great bonus!

We use recycled/recyclable packaging and are continuing to work on innovating our packaging to be both planet friendly and protective while your mattress makes its way to you.
We're not crying – you're crying!
As a small, family-owned company, we are extremely proud of Happsy and how we have grown over the years. However, it's even more rewarding when we see our customers be passionate about us … because we're so passionate about you! Our customers' happiness is the backbone of where we are now and where we are going.
We're always open for questions and feedback, whether it's Get To Know Your Customers Day or not. If you're an existing customer, thank you for choosing Happsy and believing in our mission of making healthier sleep attainable for all. If you're not a customer yet, we're here and ready to chat when you are.