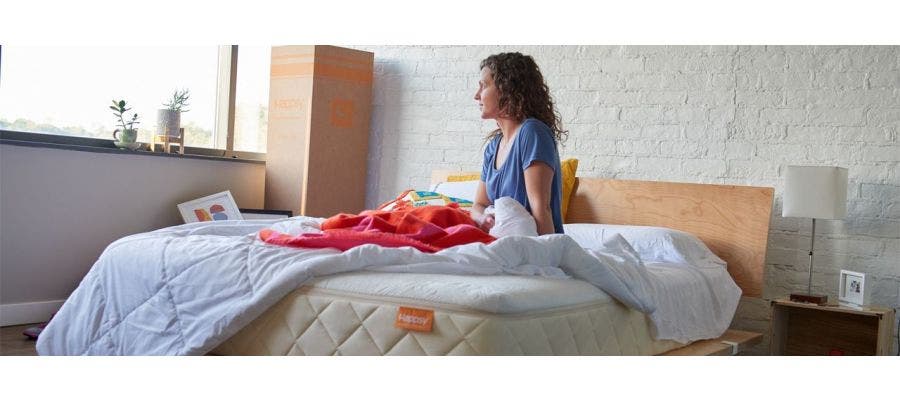 Growing up is weird, right? One minute you're spending your money on gummy worms and the next you need to think about some pretty legit purchases – like a mattress. If you've never been the one responsible for buying a mattress and you're wondering where to start, you might be overwhelmed.
We get it … the mattress world has gotten pretty complicated in recent years. Mattresses with apps, "cooling gels" and very sciency words like "pneumatic foam" may have you wondering: is any of this even necessary? Short answer: no.
But, there's still a lot to consider. Like, what materials are comfiest and how much does a mattress cost? We're sure part of the reason shopping for your first mattress is daunting is because a mattress can be a significant investment. Never fear! Happsy can walk you through what you need to know before making this oh-so-adult decision.
What makes a "good" mattress?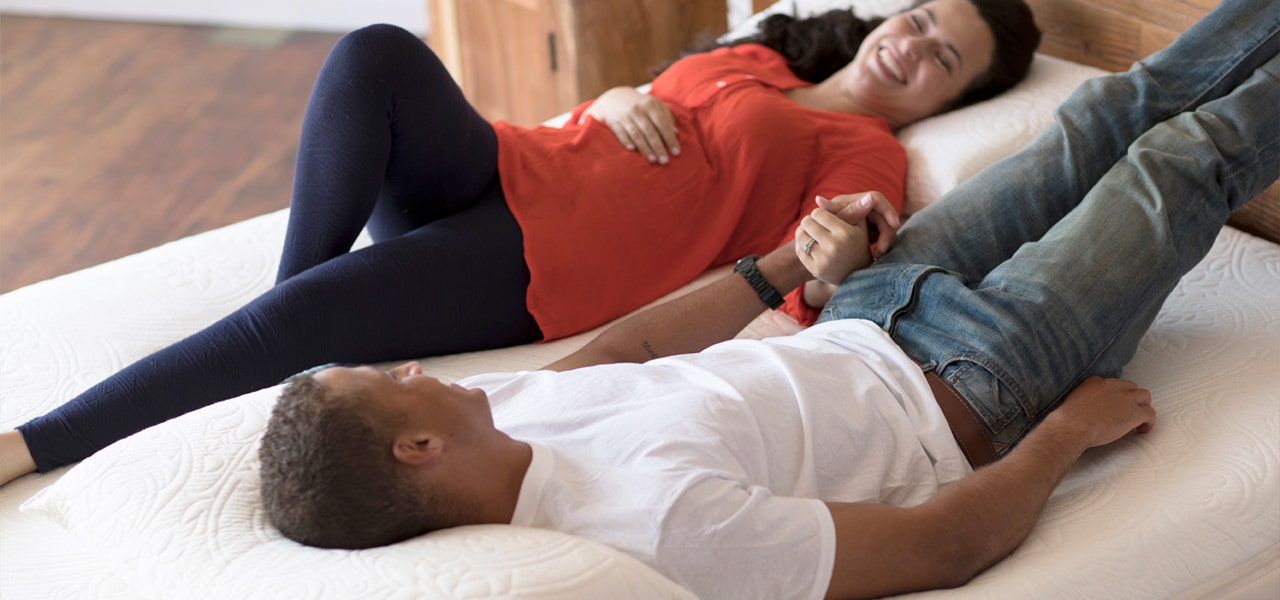 This is a loaded question because a "good" mattress is subjective. A lot of factors come into play when deciding what makes a mattress right for your individual body, sleep needs and lifestyle. Some things to consider are:
Budget
In an industry with products costing a few hundred dollars to more than 10 grand, it can be difficult to navigate what the differences are. This is good news though because it means there are a ton of options for you. Start with considering your budget so that you can narrow down your search based on your other needs. You don't need to go beyond your budget to get a good night's rest.
Related to cost, consider longevity. Mattresses are an investment, so you want yours to last. You also want the company to have a great warranty that backs their product. Check out mattress reviews, too, as part of your longevity research.
Mattress firmness
Mattress firmness refers to how soft/plush or hard/firm a mattress feels, and this one's important because it will physically impact you. A mattress that isn't the right firmness for your body type and sleep position can cause physical pain (hips, neck, back), as well as leave you exhausted in the mornings. Check out our blog post about mattress firmness to help you understand what is a good fit for you.
Support options
Closely related, mattress support has a lot to do with how comfortable your mattress feels and how well you sleep. Mattresses typically provide support with coils, latex or a hybrid of the two. Unless you have a latex allergy, this one comes down to personal preference. However, if you do opt for coils, we suggest pocketed coils instead of an innerspring system. These individually wrapped coils reduce motions transfer, so if you're sleeping with a pet or a partner, you'll thank us!
Mattress materials
We'll dive into organic vs. conventional mattresses next because this one's a dealbreaker for us. The fact of the matter is that a lot of conventional mattresses contain harmful chemicals, polyurethane foam, toxic glues and adhesives, and chemical flame retardants that simply shouldn't be a part of our nightly sleep experience.
Mattress differences: organic vs. conventional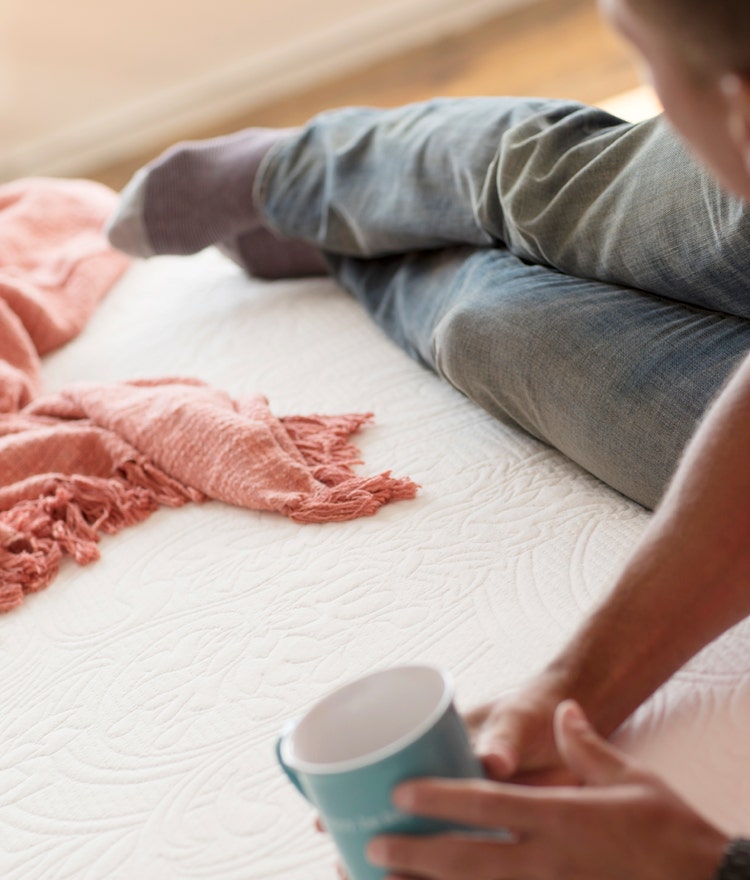 A lot of people don't know that there even is such a thing as an organic mattress. So, if this is news to you, don't worry. And, if you're suddenly questioning the mattress you've slept on your whole life, know that we aren't trying to stress you out! We simply want to provide you with all the knowledge you need to make your first mattress purchase.
Health impacts
One of the biggest differences between conventional mattresses and organic mattresses is that many conventional mattresses contain polyurethane foam. A common type of polyurethane foam is the memory foam you see in everything from mattresses to shoes. Here's the bad news: it's made from petroleum-based chemicals.
These chemicals emit volatile organic compounds (VOCs), which can cause respiratory irritation, headaches, dizziness and other side effects. Long-term VOC exposure can lead to serious health issues, including:
Central nervous system damage

Kidney and liver problems

Cancer
Additionally, conventional mattresses typically require chemical flame retardants to meet flammability standards. These have been known to cause a number of health issues from hormone disruption to neurological impairment to cancer.
Oh, and most conventional (and even many organic mattresses!) use glues and adhesives, which can contain formaldehyde, a known carcinogen.
Sustainability concerns
Certified organic mattresses are healthier for our planet, too. In addition to knowing your mattress won't be off-gassing harmful chemicals into our ozone, you can also have peace of mind knowing organic cotton (used in many organic mattresses) does not require excessive water usage or contain the toxic pesticides that harm biodiversity and contribute to ozone layer depletion.
A lot of certified organic mattress manufacturers are committed to the cause, meaning that they also aim to sustainably source natural and/or recycled materials, incorporate greener business practices and advocate for environmental causes. Some offer responsible mattress removal, too.
4 Questions To Ask Before Buying an Adult Mattress
Still struggling to sift through all this mattress info? It helps to ask yourself direct questions that relate to your sleep environment and needs. Here are some good ones:
What size am I looking for? If you're sticking with the same size you currently have, this is easy. If not, try breaking out the tape measure and seeing just how much room you have for a mattress. If

upgrading to a Queen, King or even a Cal King

, you'll need to consider the foundation/bed frame you'll need as part of your budget.
What is my budget? Set a budget range for your mattress in case your research leads you to a higher price point but much better quality. Additionally, set a budget for new

bed sheets

,

pillows

,

protector pads

, etc.– anything else you may be purchasing as part of your bed revamp. (Psst … not sure if you need a protector pad?

Read this

.)
What do you like/dislike about your current mattress? Is it too soft? Too firm? Innerspring? Memory foam? Does it sag? Do you wake up with back pain? Thinking about this can help you determine what you're looking for in your next mattress, especially as far as firmness goes.
What is the return policy? It's easy to go into the store and test things out for a moment but actually sleeping on the mattress is a completely different experience. Buying from a brand that has a hassle-free return policy will help tremendously if things don't work out.
Look for brands with mattress trials
It's hard to know after only a few minutes of trying out a mattress in the store if it is going to be the right fit for you. Plus, you need to break in a new mattress just like you do with a new pair of walking shoes. Mattresses take at least a month to break in enough for you to get a sense of how they actually feel in terms of firmness, support and comfort.
That's why some brands offer mattress (or "sleep") trials. This allows you to purchase a mattress and sleep on it in your own home long enough to break it in – and still return it for a full refund if the mattress isn't right for you. Mattress trials typically have a set number of days and a clear return policy, so just make sure you're clear on the details before you start a sleep trial.
Why Happsy may be your perfect first mattress
Yep, we're going to be shameless and say it outright. Happsy has a lot to offer. We aren't just trying to sell products, either. We believe in our mattress and in the good we're trying to do for people and the planet. If you choose Happsy, you're choosing:
Certified organic and non-toxic – This isn't important to everyone, but we're passionate about it! And, it means you're choosing a healthier product.
Eco-friendly sleep – Your mattress is friendlier to the Earth. Happsy is also a 1% for the Planet partner, which means we donate 1% or more of our profits to environmental organizations.
Competitive pricing – Our mattresses range from $899 - $1,699 and we run a lot of sales. Always check the top banner on our website for deals! We also offer financing options, too.
120-Night sleep trials –

Try us out, risk-free

, for long past the mattress "break-in" period.
Hassle-free returns – You don't have to shove the mattress back into a box and send it to us. We'll send our third-party mattress removal company to collect your mattress and donate/recycle it locally. We completely cover the cost and refund you once your mattress is picked up.
Plus, we keep it simple. Happsy has one mattress design (with universal firmness) and an organic mattress topper if you prefer a little more cushion. Growing up and navigating adult purchases can be stressful and complicated, but your mattress purchase doesn't have to be.