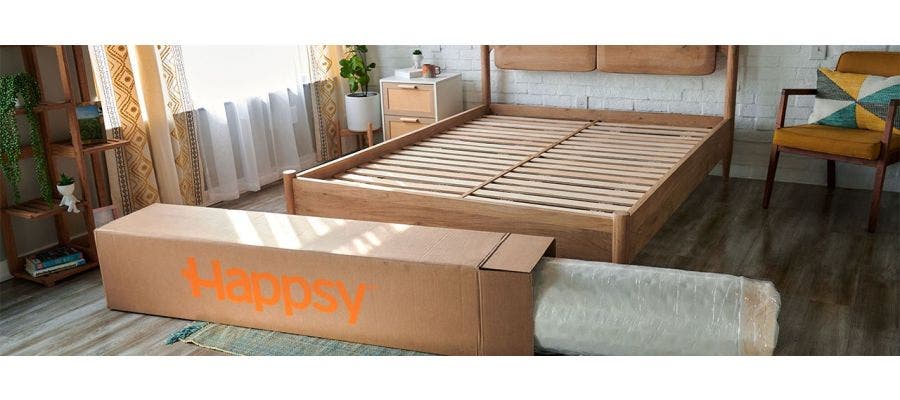 A great mattress is the foundation for a good night's sleep ... but it doesn't end there. What you put your mattress on top of actually makes a difference, too – your foundation's foundation, if you will.

See where we're going? That's right: we're talking mattress foundations.

The best mattress foundation provides support for your mattress among other benefits. But choosing one can be tough! Luckily, Happsy is here to provide you some support in deciding whether you need a mattress foundation – and what to look for in a great one. Read on!
What is a mattress foundation?
Think of a mattress foundation like a building foundation. It's a structure designed to act as the base for your mattress, providing support and elevation. A mattress foundation typically consists of a sturdy wooden or metal frame with a fabric cover.

Your home needs a sturdy foundation. Without it, the structure will sink unevenly into the ground, resulting in cracks and damage and, eventually, collapse. Without a mattress foundation, your mattress will also sink unevenly, resulting in sagging and damage that shorten its lifespan.
Types of mattress foundations
"Foundation" can be a generic term used to describe all of the possible support bases for your mattress. In that sense, there are several unique types of mattress foundations out there, each with its own features and benefits. The most common types include: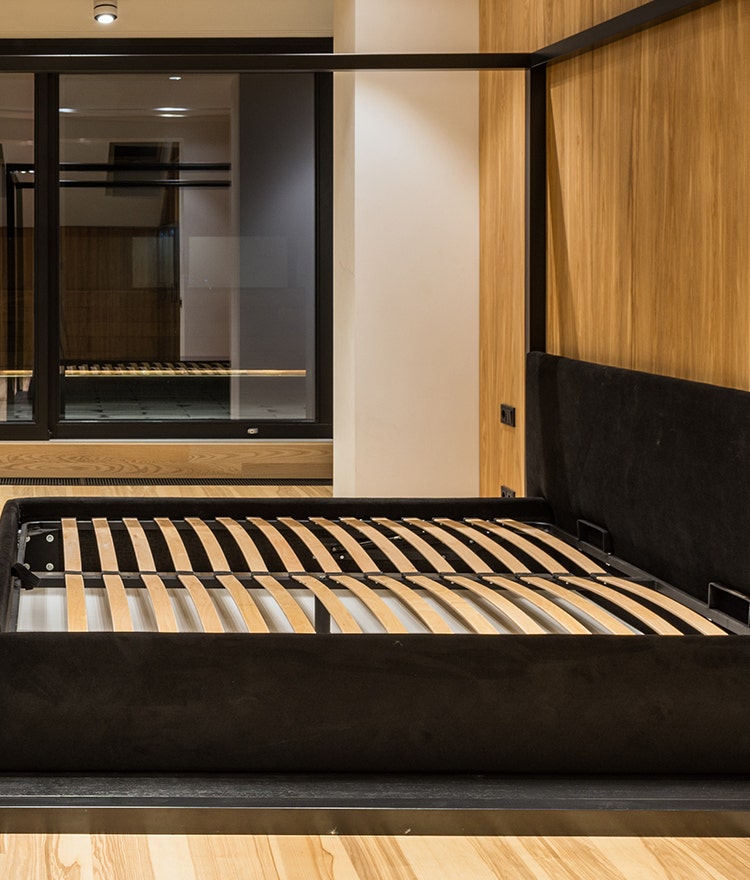 Box spring: Traditional box springs consist of a wooden frame with springs inside, covered by a fabric. They're lightweight and offer superior support for innerspring mattresses and hybrid or foam mattresses, too – as long as the slats are close enough together!
Platform bed: A platform bed features a solid base or slats that replace the need for a box spring. It's a great option for those living in smaller spaces, as they often offer under-bed storage.
Adjustable base: An adjustable base allows you to change the position of your mattress. Sleepers with specific health needs or who enjoy watching TV in bed may benefit from this foundation!
Solid foundation: A solid foundation is a simple base made of wood or metal. They offer sturdy and even support, but can be quite heavy and cumbersome to move.
However, in the mattress world, the term "foundation" usually refers to a frame made of slats or wooden panels laid across its top, sometimes encased in fabric.
4 Reasons you need a mattress foundation
Now you know what a mattress foundation is and the different types available. But the question remains … do you really need one? Here are four reasons why we say, "Yes, you do!":
1. Hygiene and airflow
When we talk about sleeping clean here at Happsy, we're often talking about keeping toxic chemicals out of your sleep space. But beyond that, sleeping clean means keeping your sleep space hygienic, too!

A LOT can accumulate inside your mattress. Allergens like skin cells and dust mites, bacteria and mold from moisture like sweat or drool, oils and chemicals left from cosmetics … oh my! Elevating your mattress off the floor with a mattress foundation promotes better airflow, reducing the accumulation of moisture and reducing the risk of mold or mildew growth. It also keeps your mattress cleaner and protects it from dust, dirt and allergens. (Although, you still want to invest in a mattress protector – trust us!)
2. Enhanced support
Like we mentioned above, a mattress foundation provides crucial support for your mattress, preventing it from sagging and losing its shape. But a bed base provides support for you, the sleeper, as well. It helps to evenly distribute your body weight, providing pressure point relief and promoting proper spinal alignment.

You know that "Ahh…" feeling when you lay down and can feel immense relief across your bones and muscles? That's how your mattress should make you feel – and a foundation helps to achieve that!
Bonus tip! If you're waking up achey, you may not be sleeping on the right mattress firmness for you personal sleep needs. Get tips here.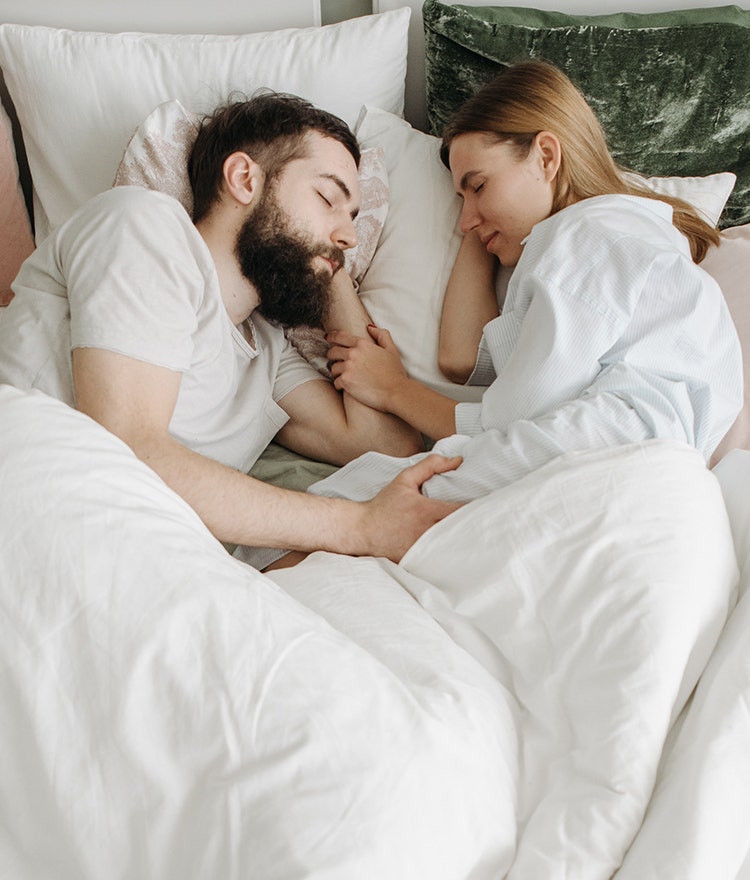 3. Improved durability
We get it – a safer, healthier, greener mattress can be a big investment. The right mattress is essential to your sleep health, so it's money well spent; but still, you want to get as many years out of your bed as you can!

A mattress foundation is a great example of how sometimes investing a little more up front actually saves you money in the long run. By providing a stable base, a foundation prevents premature wear and tear, extending the lifespan of your mattress.
4. Noise reduction
Sleeping with a partner? Different types of sleepers in one bed can be a recipe for sleepless nights – just ask any light sleeper who's married to someone who tosses and turns!

Believe it or not, there are ways to alleviate these sleep woes. One way is to choose a mattress with pocketed springs (like Happsy!) to reduce motion transfer. And a mattress foundation is another great tool to help reduce noise caused by movement and creaking.
Is it okay to put my mattress right on the floor?
We know there are reasons one might be tempted to put a mattress directly on the floor – it's cheaper, it's easier, it gives off a certain effortlessness some aspire to. However, it's just not a great idea. (Womp, womp, womp.)

Without proper support, your mattress is more susceptible to wear and tear, sagging, and reduced comfort and support. Additionally, placing your mattress on the floor can hinder airflow, leading to the accumulation of allergens and moisture. Uncomfy, achy sleep filled with sniffles and sneezes? No thank you!
Happsy can help!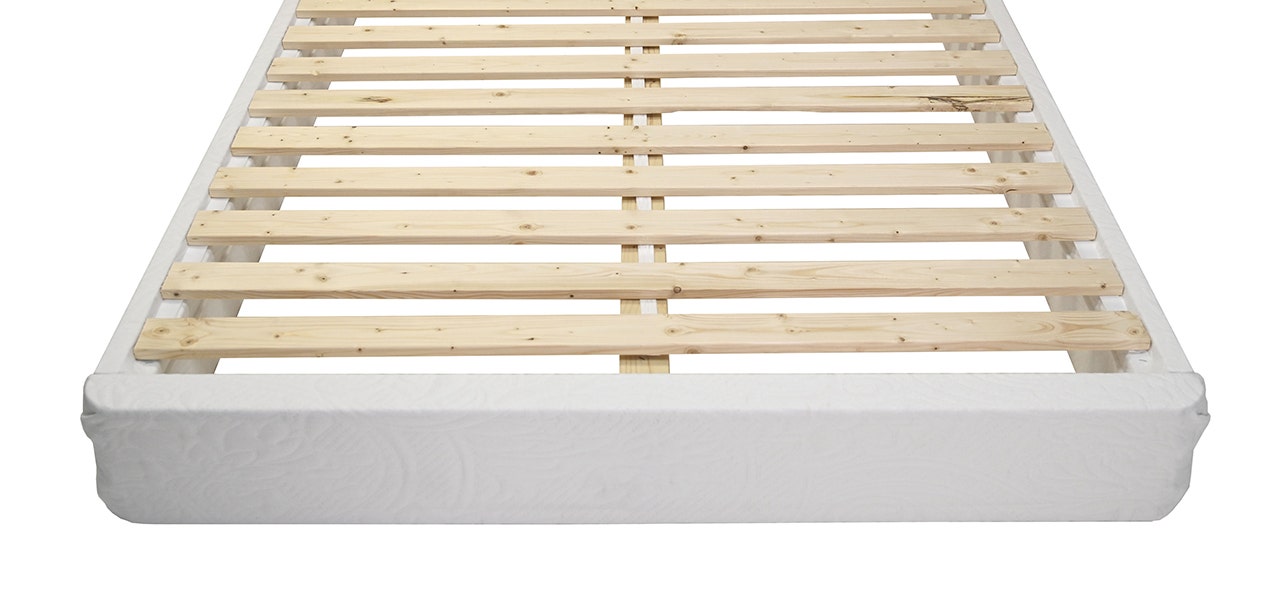 By choosing the best mattress foundation to suit your mattress type and personal preferences, you can ensure a solid foundation for a great night's sleep – and that's the foundation for a healthy lifestyle!

At Happsy, it's our goal to help you Sleep Healthy, Wake Happy™ – so offering organic foundations to help you wake up refreshed and rejuvenated every morning is a no brainer for us. Made with sturdy pine wood and organic cotton fabric, the Happsy Organic Foundation ships flat-packed for easy delivery and assembles in minutes … so you can get sleeping faster!

Wondering what other organic sleep accessories your bedroom might be missing? This bedroom essential can drastically increase your mattress's lifespan.