Thanksgiving: A Time to Be Thankful and … Wasteful?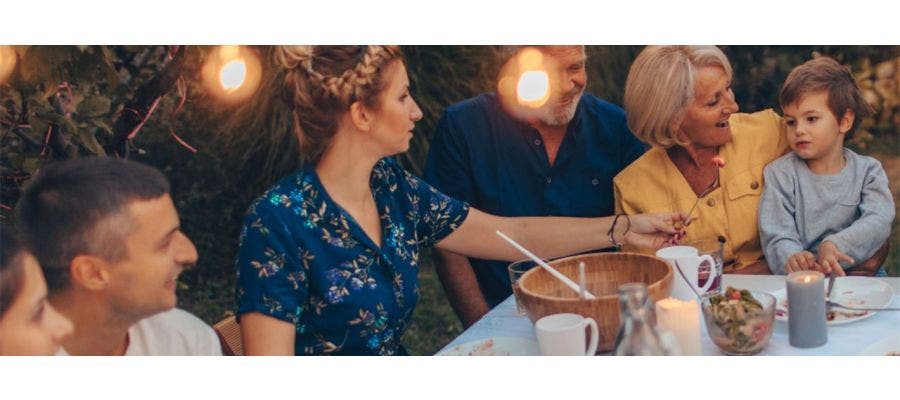 For many, Thanksgiving kicks off the holiday season. Not only is it a shortened work week, but it's also the start to many holiday family traditions like watching the Macy's Day Parade, baking Nana's famous pie recipe and, of course, sitting down together for the iconic Thanksgiving dinner.
That's right, Thanksgiving is a time for friends, family, feasting and ... sadly, quite a bit of waste. Food waste. Paper waste. Fuel waste. The list goes on.
While we're dedicating a day to gratitude, we should also extend gratitude to our beautiful planet! Some Thanksgiving waste is unavoidable, but there's also a lot you can do to minimize the environmental impact of your family gathering or Friendsgiving. Good news, you're in the right place to learn how to have a more sustainable Thanksgiving celebration.
Why does Thanksgiving generate so much waste?
Most people learned their Turkey Day traditions while growing up. If yours was like many households, on Thanksgiving there was a massive turkey no one could finish, a plethora of side dishes and desserts, and a mound disposables in the form of plates, cutlery, bottled waters and foil pans.
When you look at it that way, it starts to make sense that this spread also kicks off the increase in waste produced by the holiday season. The reason Thanksgiving tends to be such a wasteful holiday is that we:
Cook more food than needed, increasing the food waste that ends up in landfills (creating harmful greenhouse gas emissions!)

Use paper/plastic plates, silverware and cups, as well as single-use serving dishes that end up in landfills

Purchase single-use tablecloths and decor items that – you guessed it – also end up in landfills

Travel farther distances to family gatherings by car or plane, increasing carbon emissions
How to have a more sustainable Thanksgiving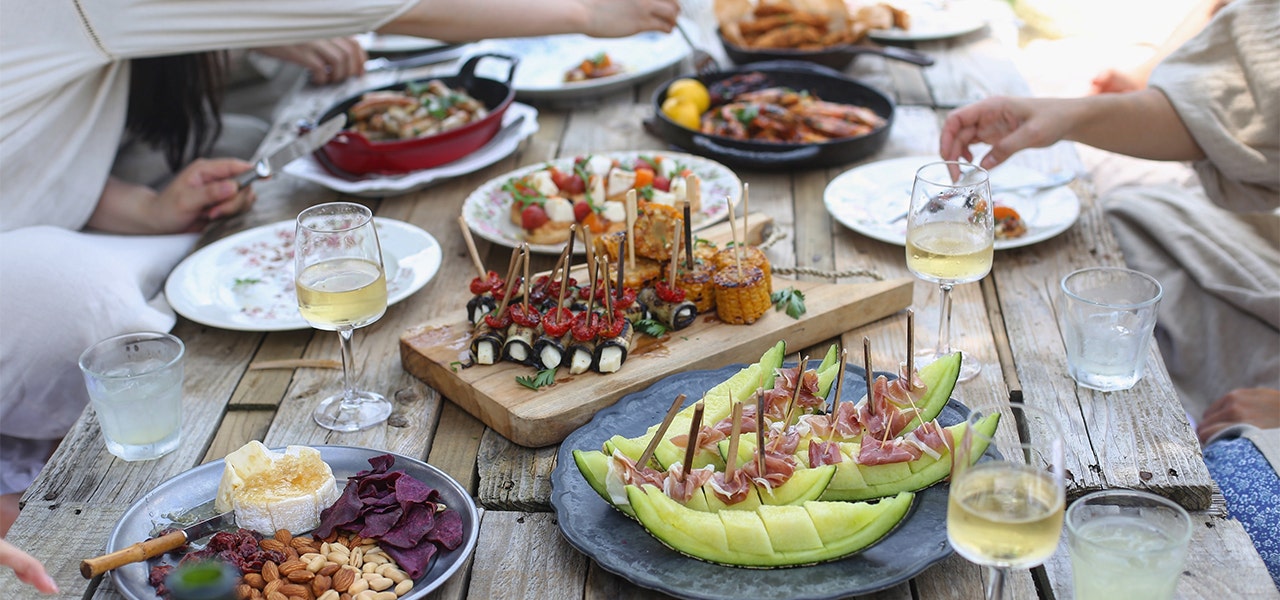 There are real repercussions to not being environmentally conscious when celebrating the holiday, but just a few small substitutes and changes can make a big difference. If you're feeling overwhelmed trying to plan an eco-friendly Thanksgiving without impacting the traditions you love, don't fret! Happsy has you covered.
Rethink how you do turkey
Every year more than 200 million pounds of uneaten turkey heads to the landfills. Yikes. When we waste meat, we're also wasting the resources used to bring it to your table (think water, food, labor), which affects the environment, too.
Now, you could opt to skip the turkey all together (which is a very planet-friendly option), but traditions die hard and that may not be the right option for your family. Make serving turkey on Thanksgiving more sustainable by:
Purchasing a fresh, local, farm-raised turkey that had a good life

Getting a turkey that will be just enough to feed your family and friends (vs. one that is far too large)

Freezing leftover turkey to use for future meals and soups

Donating leftover turkey to local homesteads or individuals with animals who may be able to utilize it
Prepare sustainable sides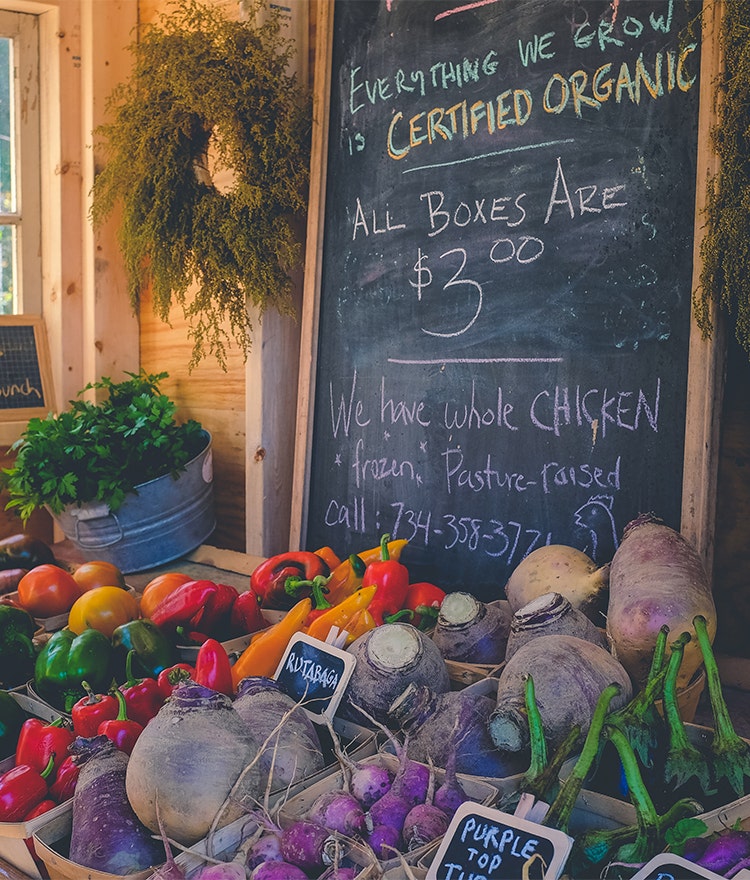 What is Thanksgiving day without all of the incredible sides like mashed potatoes, corn and green bean casserole? Make your Thanksgiving sides even better by making them eco-friendly. For sustainable side dishes:
Source your fruits and veggies locally! This is an easy way to make an impact because locally grown food does not have to travel as far to get to you.
Shop organic (and local is best.) You can even purchase organic wine, which is a great gift for the host!
Use glass or aluminum casserole dishes and serving bowls. If you do opt for the disposable foil pans, consider washing these to keep on hand for future dishes. It's a great way to upcycle something most throw away.
Compost, compost, compost! Cooking creates a lot of scraps and waste. If you have a compost pile, then chances are your scraps are already ending up there. But, if not and you do not have room for one, look up local composting companies near you that offer this service for a small monthly fee.
Ditch the disposables
When it comes to large get-togethers, it's tempting to purchase paper/plastic plates, plasticware, cups, etc. Who wants to do dishes all evening, right? But all of this single-use plastic is horrible for the environment. To ditch the disposables:
Utilize your own dishes and silverware. Grab a couple family members to help wash and dry while you power through a full sink. We're willing to bet you'll enjoy some great conversation while you clean up!
Use cloth tablecloths instead of plastic/vinyl. Sure, laundering your tablecloth takes a little extra work, but it's a small task with big payoff.
Ask guests to bring their own leftover containers. This way you don't waste food and you don't have to buy extra plastic containers. It's not tacky doing good things for Mother Earth.
DIY your decor items. Fall is a time full of beautiful leaves and pine cones. Head outside and gather some natural elements, grab some mason jars and create some dreamy Thanksgiving Day decor.
Serve tap water or filtered water. This is an easy way to avoid a lot of plastic bottles!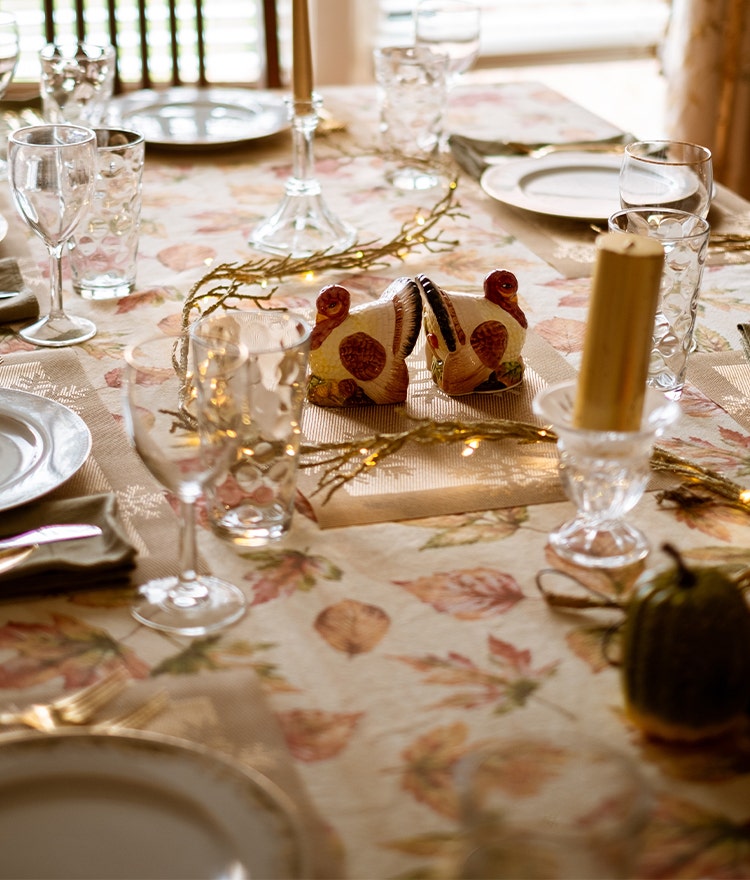 Be mindful with travel
We would never tell you to skip out on spending time with your family and friends. This is an essential part of the holiday! However, if you are traveling, there are few ways to make your travel plans more environmentally friendly, such as:
Carpool! It's a classic way to reduce carbon emissions. Text your aunt who lives close by and ask if you can catch a ride.
Cycle. Is your gathering a reasonable biking distance and is the weather still decent? If so, this is the perfect chance to not only help the environment but also burn some of those Turkey Day calories.
Plant trees. No, we're not suggesting you go outside on Thanksgiving and dig some holes. We're advising you to plant trees as an example of a carbon offset, which means doing something to reduce carbon emissions as compensation for creating carbon emissions (like those that come from flying). Organizations like

Tentree

or One Tree Planted are excellent and inexpensive. You can offset your cross country carbon emissions for less than $20!
Cherish your traditions – and our planet!
Traditions are special. At Happsy, we get that. We know not everyone at your family gathering will be willing to make the changes to move toward a more sustainable holiday, but we're hoping that you're reading this because you are. Big changes start with those of us who believe we can make a difference.
We don't have to give up the things we love about Thanksgiving in order to make a positive impact on our environment. We just have to tweak them to make them a little more planet friendly. As we always say, shavings make a pile and that's a lot to be thankful for this holiday
Speaking of traditions … are you a Black Friday shopper? We have some suggestions for making Black Friday more sustainable, too! Oh, and a pretty awesome Black Friday sale on ALL of our sustainably made, certified organic sleep essentials. Check it out!