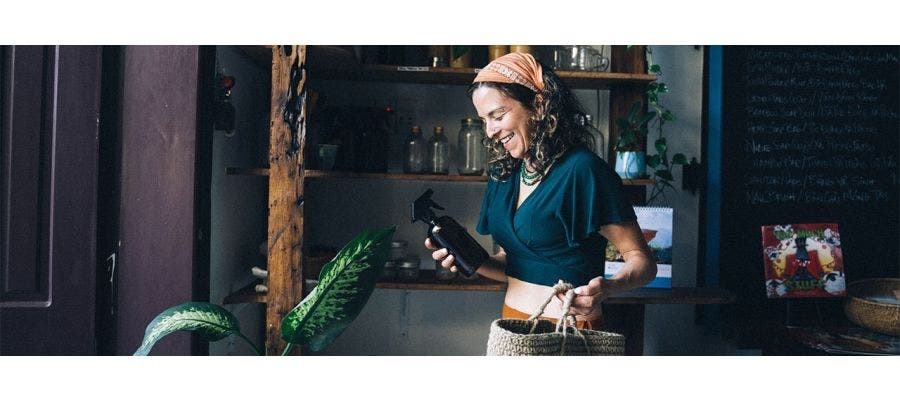 Who doesn't love a good life hack, right? Living sustainably is a noble goal, but we understand – it can feel like there are a million lifestyle changes to make. The good news is that you don't have to tackle your eco-friendly lifestyle all at once.
We've got some everyday hacks that will make embracing an eco-conscious lifestyle more feasible and attainable for you. By making small, meaningful changes, you'll be on your way to creating a greener future. So, let's dive in and discover how these simple yet impactful hacks can make a big difference in our lives and for our planet, too!
Sustainable sleep
Yep, you knew we were going to start here. At Happsy, we know sleep, so this category is very close to our hearts. When it comes to sleeping more sustainably, these are our top recommended hacks:
Sustainable cooking and eating
When it comes to cooking, eating and packing up food, plastic is an enormous problem. Here are some sustainability tips to reduce your reliance on single-use plastic, along with some other game-changers:
Use lids, proper pan sizes and efficient appliances.

Try eating meals only prepared at home to

reduce food waste

(and consider eating a few vegan meals a week!)

When shopping, support your local farmers and regenerative agriculture initiatives and buy organic as much as possible.

If you do go to the grocery store, always bring reusable bags and select unwrapped produce and only what is in season.

Grow your own vegetables, fruits, and herbs! There's never been a better time to start gardening.

Avoid using non-stick cookware, which often contains PFAS, aka "forever chemicals."
Sustainable home decor
When it comes to your home, you don't have to sacrifice style for sustainability. You just need to be mindful of how you decorate. For example:
Choose secondhand or vintage furniture and decor items for a sustainable and unique touch.

Use energy-efficient lighting options, such as LED bulbs.

Incorporate indoor plants to improve air quality and add a touch of nature to your space.

Select eco-friendly paint and finishes that are low in VOCs.

Prioritize minimalism and decluttering to create a more sustainable and serene living environment.
Sustainable lawncare and gardening
It may sound like a no-brainer, but practicing sustainable living is super important when you're cultivating your outdoor spaces. Remember to:
Utilize proper watering techniques to avoid wasteful water usage.

Compost yard waste such as grass clippings and leaves to enrich your soil naturally.

Avoid chemical pesticides and herbicides, opting for organic and natural alternatives.

Choose native species for a resilient and low-maintenance landscape.

Encourage beneficial insects and wildlife by creating habitats like birdhouses and pollinator gardens.
Sustainable beauty and personal care
The cosmetics industry is notorious for using chemicals that can harm you and the Earth. So, let's give your beauty routine an eco-friendly makeover!
Look for responsibly and ethically sourced products that don't contain ingredients like parabens, phthalates, "fragrance," and those mysterious acronyms like PEG.

Rely on trusted resources like the

EWG Skin Deep® Cosmetics Database

to vet products for you.

Prioritize products that do not come in excessive packaging or plastic and that could possibly be repurposed once empty, like jars.

Use reusable cotton pads for make-up removal (and go make-up free whenever you feel comfortable!)

Take shorter showers and use loofas made with natural materials – not plastic.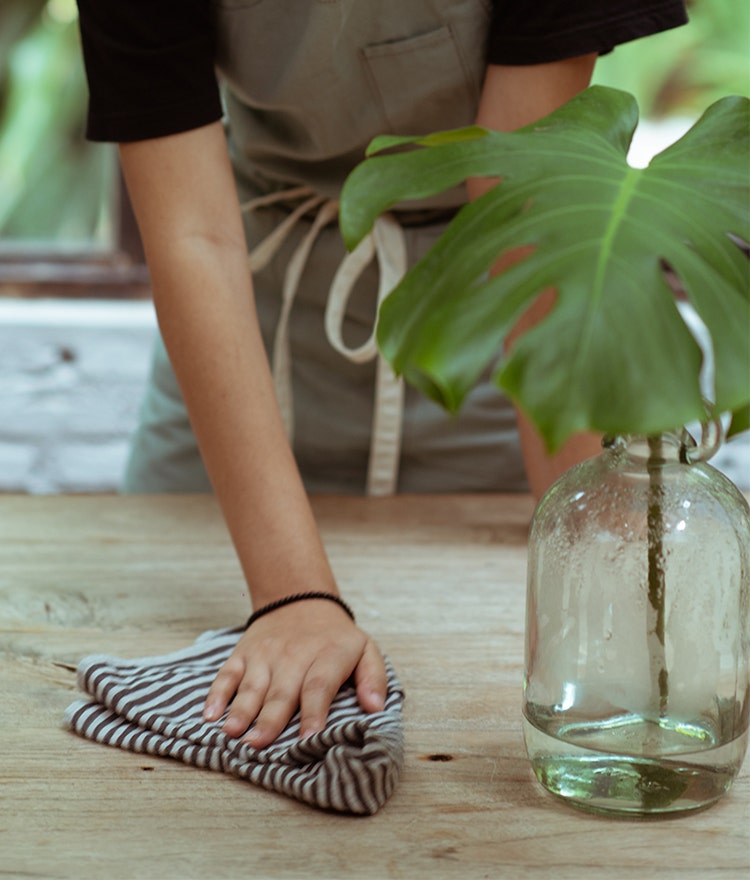 Sustainable cleaning
Like beauty products, cleaning agents also get a bad name – and with good reason. When trying to keep your eco-firendly home clean and tidy, opt for non-toxic cleaners as much as possible. It also helps to keep the following sustainability tips in mind:
Make your own cleaners using simple household ingredients like vinegar, baking soda and more.

Harness the power of tea to freshen up carpets and eliminate odors.

Use microfiber cloths or reusable cleaning wipes instead of disposable options.

Conserve water by using a bucket or basin when cleaning.

Opt for energy-efficient appliances like washing machines and dishwashers.
Sustainable pet ownership
Our pets are an extension of our family, which means our furry friends can contribute to sustainability as well! Here's how:
Opt for sustainable pet food – that means locally sourced organic materials and minimal packaging.

Pick up waste with repurposed plastic bags or biodegradable pet waste bags – or, even better, compost responsibly!

For cats, avoid conventional cat litter and opt for a clay-free blend made from corn or pine shavings.

Groom your fur-baby using a non-toxic shampoo or soap and all-natural flea and tick repellant.

DIY your pets' toys using old socks, t-shirts, bedding, rope, etc.
Bonus tip: If you're still considering adding a pet to your family, adopting from a shelter or finding an ethical breeder are the kindest and most sustainable options.
Sustainable office life
If you commute, try relying on public transportation to reduce carbon emissions. Walking or biking are both environmentally friendly options for transportation that can also have profound positive effects on your health! Here are more sustainability tips for the office:
Take the stairs instead of the elevator to save energy.

Go paperless and print documents double-sided when you can't avoid hard copies.

Bring your own reusable water bottle and coffee mug.

Donate dated laptops and devices.

Unplug chargers or any electronics that aren't in use.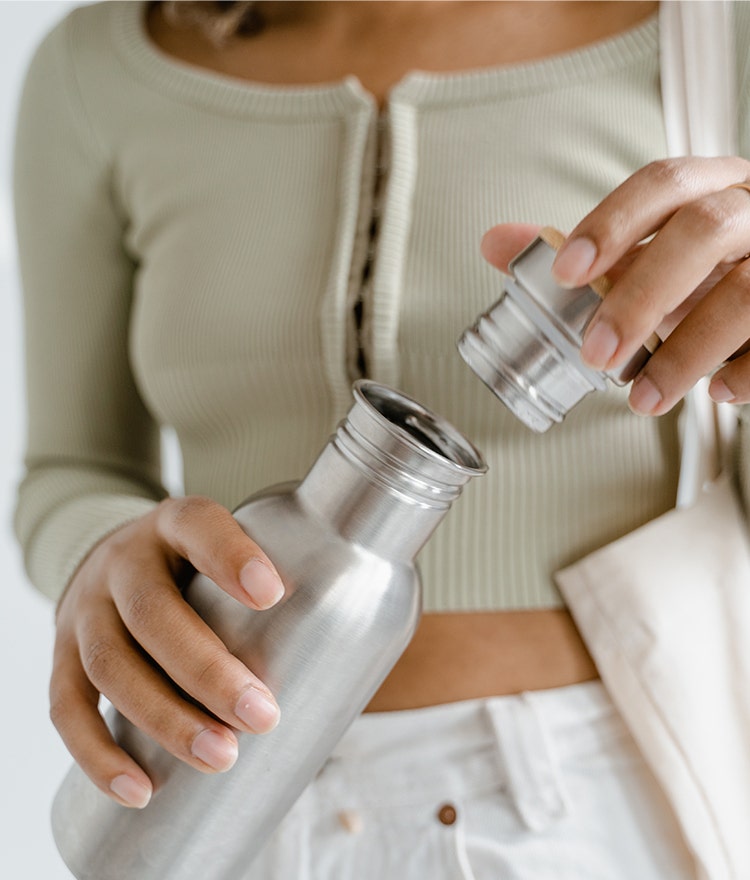 Sustainable hobbies and entertainment
It helps to remember that living sustainably can be FUN, too! Here are some of our favorite eco-friendly pastimes:
Go for a daily walk with pets, with friends or alone – and

reap the health rewards, too!

Try conscious crafting, AKA creating with eco-friendly materials to minimize environmental impact.

Thrift shop! Discover hidden gems and reduce clothing waste.

Capture and appreciate the beauty of the natural world as a budding smartphone photographer.

Learn about

conservation

, renewable energy and a lot more via green gaming.
Spending less and consuming less to live more sustainably has its challenges. However, it creates amazing opportunities to bring things back to basics, be more present and find joy in life's simple pleasures – all while doing good for the environment and for our future. Now, you've earned a few tips on greener ways to relax!