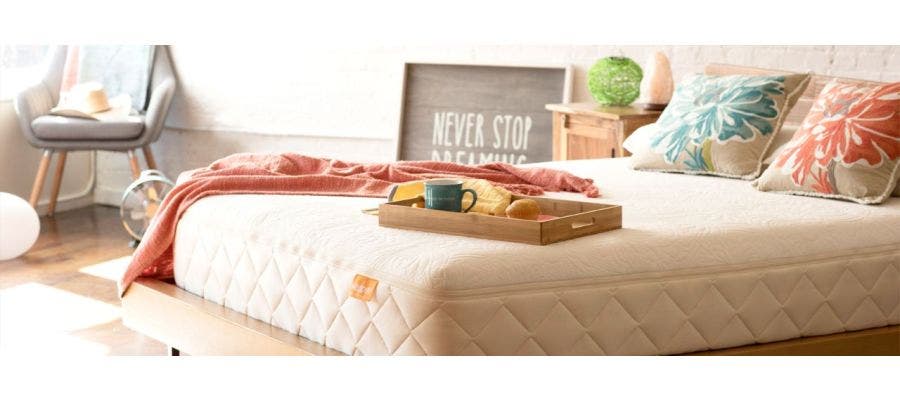 Just like fast fashion and its cheap manufacturing and high turnover rates, "fast furnishing" is also becoming somewhat of a thing. We get it – your home – and especially your bedroom – is yours and it's natural to want to fill it with all the things that make it feel, look and smell exactly like you want it to. Unfortunately, those things aren't always so "natural."
Quickly ordering bedroom furniture online or picking up that perfect throw pillow at the mall, without taking a closer look, can leave you with a less-than-ideal purchase.
The good news is that it's also fairly easy to find furniture and décor with the power to positively impact our health and the Earth's. And, sometimes, you don't even have to purchase anything at all! Sustainable bedroom design empowers you with a sleep space that doubles as the perfect self-care oasis, helping both you and the planet.
Not sure where to start when designing a more sustainable bedroom? Happsy knows a thing or two about non-toxic sleep, and we're happy to help!
What makes a bedroom "eco-friendly?"
An eco-friendly bedroom can improve your sleep and overall health, but it is also beneficial to the environment. Creating a safe and sacred space through intentional sourcing of furniture and décor is part of the process. This means avoiding harmful chemicals found in many mainstream materials that are manufactured cheaply and negatively impact the environment.
Sustainable bedroom design also means making simple changes, like switching your light sources or buying used furniture, to save energy and reduce waste. It also involves keeping your bedroom clean without using harsh, toxic cleaning solutions. An eco-friendly bedroom is part of a greener lifestyle that gets easier and easier the more changes you make.
5 Steps to a greener sleep environment
If you're ready to start "sleeping green," here are five steps you can take to create a sustainable sleep environment and eco-friendly bedroom:
1. Recycled, upcycled or used furniture and décor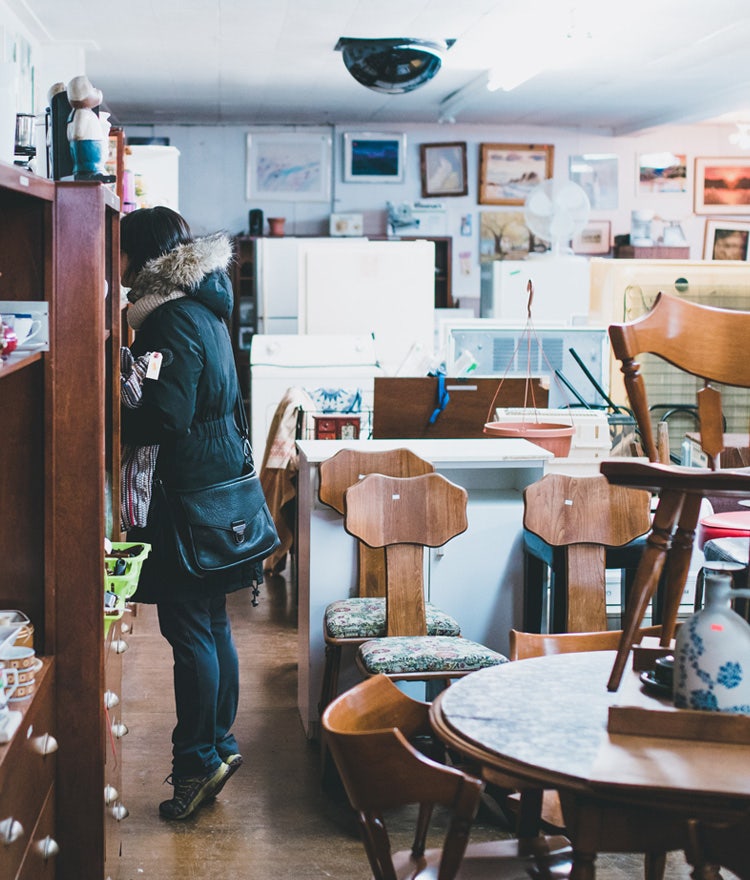 Instead of buying new, consider sourcing recycled, upcycled or used items for your bedroom. While recycling involves using "waste" to create something new, upcycling takes waste in its current state and uses it for something else. Both approaches, along with purchasing secondhand furniture and décor, cuts down on:
New products manufactured

Materials used

Energy wasted
Thrift stores, vintage shops, garage sales and online marketplaces are all great resources for buying used items. There are many brands that manufacture their products using recycled or upcycled materials, as well. In fact, you may already own the perfect nightstand or shelf … you just need to get creative and see it in a new light. Never underestimate the power of a fresh coat of paint or a hand-knit throw you can put over the back of a chair.
2. Environmentally conscious lighting
Embrace the cycles of natural light and darkness instead of relying on electricity for lighting in your bedroom. This will help set your circadian rhythm as well to improve your sleep quality. Try exposing yourself to natural sunlight first thing in the morning and beginning to wind down when the sun sets.
For your nighttime light source, try using non-toxic candlelight instead of relying on electricity in your bedroom. You can also use battery operated:
Reading lights

Flashlights

Infrared lights

Salt lamps

Fake candles
If you need an overhead light source or a lamp, just make sure you're using LED lightbulbs.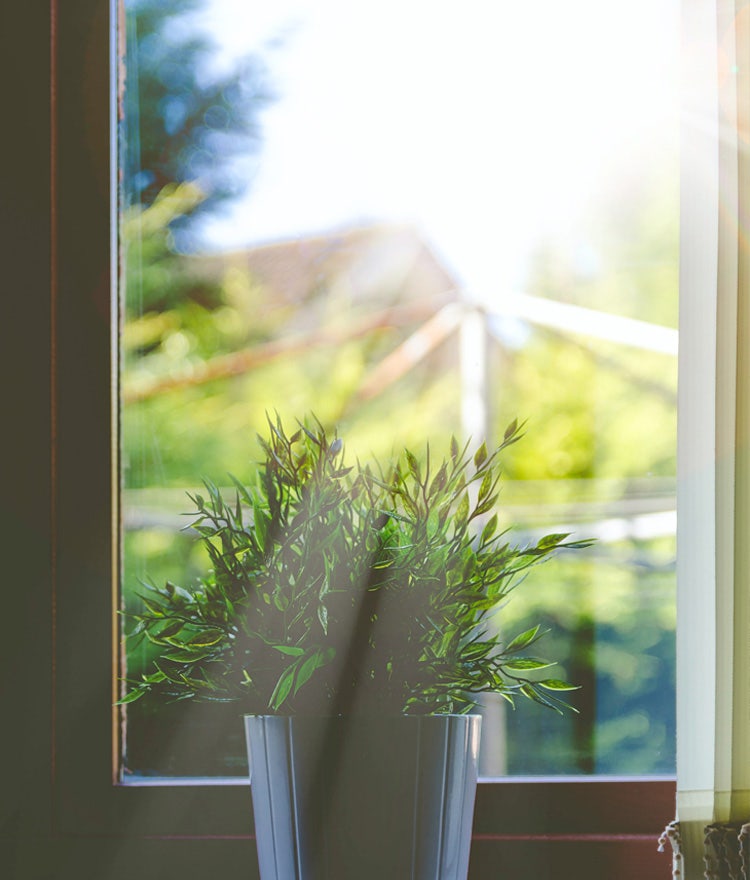 3. Sustainable walls and flooring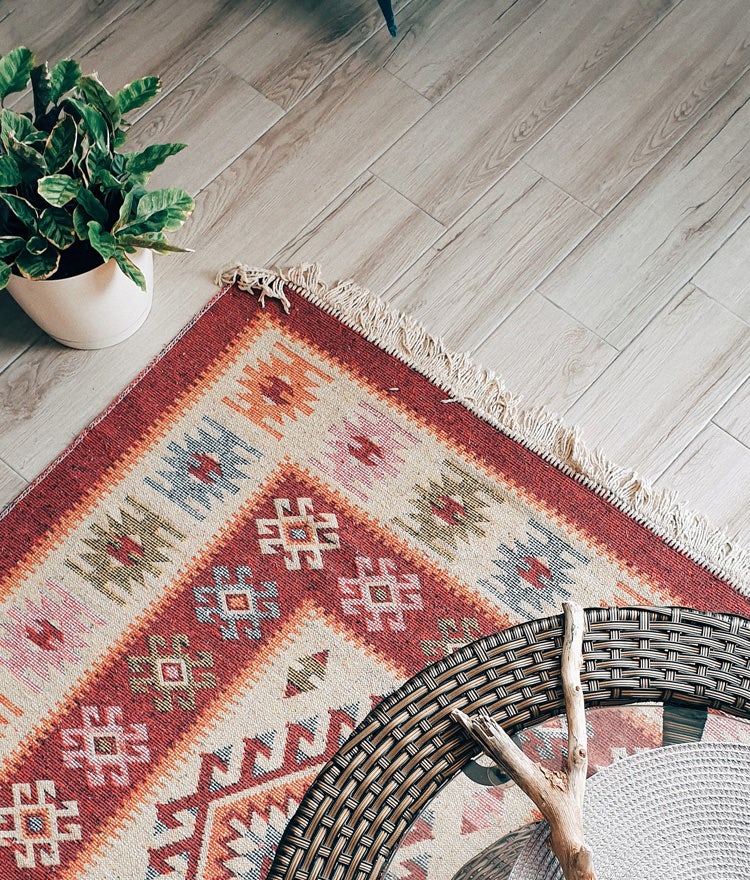 Eco-friendly walls and flooring are those consisting of sustainably sourced, all-natural materials that have minimal environmental impact. For flooring, these include:
Wood

Bamboo

Cork

Concrete

Wool

Cotton
For walls, the paint, curtains and windowpanes you choose matter most. Look for non-toxic paints that are free of harmful volatile organic compounds (VOCs), temperature regulating curtains, and energy-efficient windows that block UV rays.
4. Organic mattress and bedding
Of course, this one is close to our hearts! At Happsy, we know that so many of the mattress and bedding options available today are laden with harmful chemicals – seriously, the list is long. And, that's the last thing you want to be sleeping on for your own sleep hygiene and for the Earth's sake!
When creating an eco-friendly and sustainable sleep environment, choose a mattress created from organic and sustainably sourced materials, like latex, cotton and wool. It's also important to look for the GOTS (Global Organic Textile Standard) and MADE SAFE® certifications to ensure the materials are free of chemicals like flame retardants and pesticides. At Happsy, our mattresses are 100% organic and both GOTS and MADE SAFE certified. Same goes for sheet sets and mattress toppers!
Not sure the difference between organic and conventional mattresses? Here's some more info.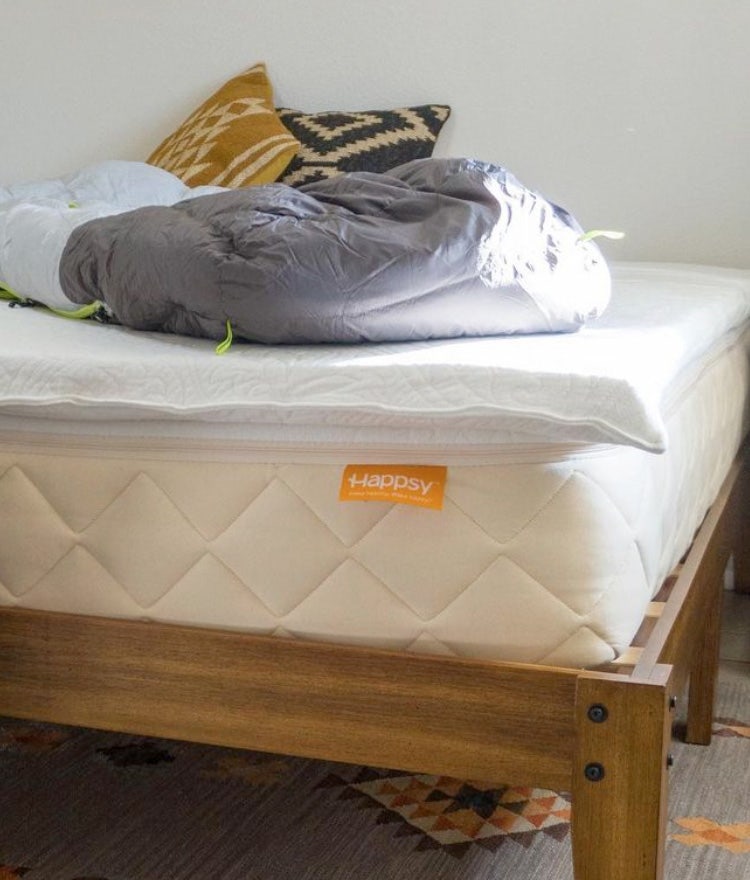 5. DIY Non-toxic cleaning products and fragrances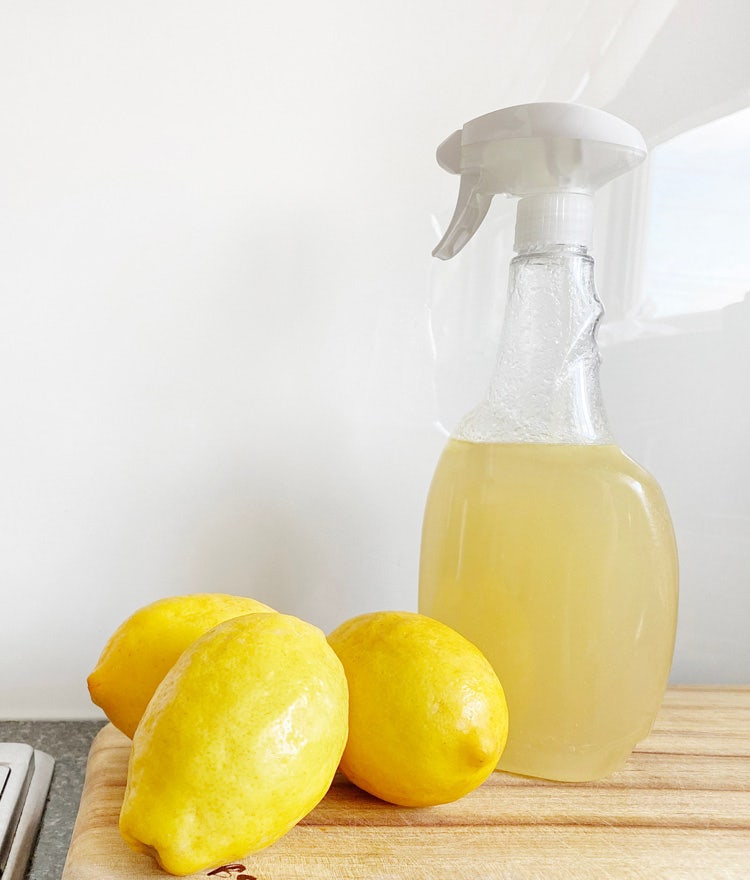 Ditch the harsh cleaning supplies, air freshener plug-ins and conventional scented candles! All of these emit toxic chemicals into the air that are hazardous to your health and the environment.
Try making your own non-toxic cleaning solutions by using things like distilled white vinegar and essential oils. Essential oils are also a great replacement for candles. Plus, simply opening a window from time to time will help keep the air fresh and purified in your bedroom.
Bonus Idea: Bring the outside inside by incorporating plants into your bedroom décor! Snake plants are especially beneficial to have in the bedroom. Most plants release carbon dioxide, but snake plants are different. They require very little natural sunlight or maintenance and release oxygen during the night which can improve both sleep and health.
The health benefits of sleeping sustainably
Bottom line, sustainable bedroom design reduces our exposure to toxic chemicals while we sleep. The chemicals found in conventional mattress materials have been linked with a wide range of health issues, from headaches and skin irritation to serious, long-term problems like:
Immune system disruption

Neurological conditions

Nervous system damage

Compromised immune system

Infertility and hormonal disruptions

Cancer
Some people also have concerns when it comes to electric and magnetic fields (EMFs). By relying on natural light sources or taking additional steps to reduce electricity use, like eliminating a TV from the bedroom, you can reduce EMF exposure decrease interrupted sleep cycles. And, in general, the more we declutter and simplify our sleep space, the less distractions and stimulants we have. This can allow for deeper relaxation and regulation of the nervous system.
A planet-friendly bedroom is one that promotes health – for both you and to the environment. With the added peace of mind that your eco-friendly bedroom is supporting the planet, you might just sleep better anyway!
Interested in helping people in need create better sleep spaces? See how you can get involved with our friends at Humble Design!